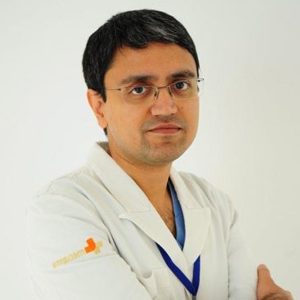 Dr. Vikas Singhal – Bariatric Surgeon, Gurgaon
Consultant- Department of GI & Bariatric Surgery, Medanta- Medicity Hospital
After graduating from Maulana Azad Medical College, Dr. Vikas Singhal, the Obesity Specialist Doctor, went to pursue further training in the U.K. He completed initial training in surgery from Birmingham, Coventry, and Leeds. After this, he moved to America for higher training. He completed a five-year Surgical Residency from the Guthrie Clinic, Pennsylvania. After this, he pursued a Fellowship in Advanced Laparoscopic and Weight Loss Bariatric Surgery from Case Medical Center, Cleveland, USA. He believes in honest and ethical patient care. He practices Evidence-Based Medicine (EBM).
Our Services
Helping you lead a healthy life with our surgical treatments and utmost care
Make an Appointment
Send your request and let one of our experts consult you regarding it.
"I am 34 years old, but my body weight was much higher for my age. I was not able to loose weight despite exercise and workout. I took suggestions from Dr. Vikas Singhal and decided that I need to undergo Bariatric Surgery. I stayed in the hospital for only 2 days and on the 5th day, I was back in Nepal. MedantaMedicity, Gurgaon hospital is very good and the doctors and staff are very friendly. They made me feel at home. I have lost 20 Kgs in just 2 months. I am very happy with this surgery — it has changed my life."
✱ Results may vary person to person.
LIFE IS NOT MERELY BEING ALIVE BUT BEING WELL.
Latest Updates
Read all our recent news articles, blogs, and health tips here.
"We, with our years of experience and a continuous urge to be the best, can help you lead a healthy lifestyle again." – Dr. Vikas Singhal In essence, the...
Continue Reading
Latest Videos
Watch our videos
Frequently Asked Questions (FAQ's)
Our Recent FAQ's
You are just one step away from being the Healthiest version of yourself